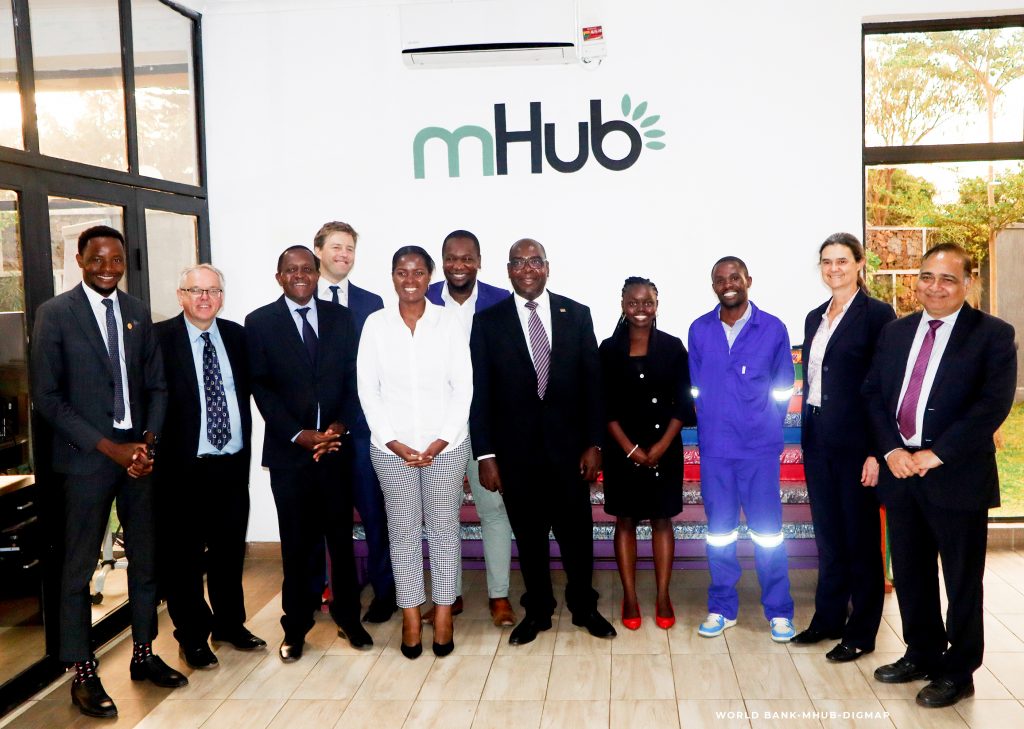 A delegation from the World Bank led by the Task Team Leader for the Digital Malawi Project (DIGMAP) Dr. Tim Kelly accompanied by officials from the Government of Malawi, the Principal Secretary (PS) for the Department of e-Government Mr. Francis Bisika, and Senior Deputy Director (SDD) Mr. Paul Katema, recently visited mHub, one of the technology (tech) hubs in Lilongwe effectuating the Digital Skills Development and Innovation activities through sub-grants to appreciate the impact of the initiative among the youths.
The Public Private Partnership Commission (PPPC) under DIGMAP is implementing Digital Skills Development and Innovation activities under the emblem 'Luntha ndi Chuma' with funding from the World Bank through 10 tech hubs. The initiative aims to help tackle Malawi's digital literacy and advanced ICT skills gaps; strengthen the digital innovation and entrepreneurship ecosystem, advance job creation, entrepreneurship, and creativity particularly for the youth.
Upon warmly welcoming the visitors to the hub, Daniel Mvalo, mHub's Technical Manager said "mHub has managed to equip 85 females and 54 males in Chitipa with graphic designing, web development, business planning, marketing, and financial management skills."
Mvalo added that mHub also conducted a highly competitive pitching competition in the district where 5 youths out of 46 innovators were awarded USD 2,500.00 each as startup capital. In addition, the hub also held a Mass ICT Literacy Program where 346 elderly people were trained in basic ICT skills and ways of curbing online fraud.
One of the promising, award-winning innovators in the pitching competition, Tamiwagha Ngulu said she "will be setting up an ICT Café in Chitipa with the subgrant she received". She then applauded the Government of Malawi and the World Bank for investing resources in uplifting the livelihood of the innovators, especially the youth in Chitipa District under the Luntha ndi Chuma initiative.
As a subcomponent of DIGMAP, the Luntha ndi Chuma initiative is segmented into two phases with the first phase reaching out to more than over 4,000 youths and women who were trained in Digital Skills, Mass ICT Literacy, and Entrepreneurship; and 2,800 youths were also trained in Digital skills only across the country through tech hubs. During the same first phases, 57 sub-grants were awarded to the best innovators during the pitching competition; 55 proficient youths were placed under internship programs in various organizations nationwide.
Currently, the second phase has been rolled out across Malawi through 6 tech hubs namely, NxtGen, mHub, Mzuzu E-hub, Computer Clinic, GreenImpact Technologies, and Rydberg. So far, 950 youths have been trained through the school outreach program targeting CDSS schools namely, Likuni Boys Secondary School, Chigoneka CDSS, and Chinsapo CDSS. 1,000 elderly people have been reached through Mass ICT literacy in Lilongwe, Dedza, and Ntcheu.